The UON portal has made life easier.
by James Sitati
(Nairobi)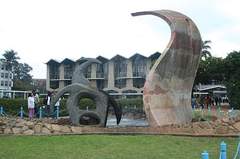 University of Nairobi fountain of knowledge
I did my undergraduate degree at the University of Nairobi and when i came back for my masters 7 yrs later, i found a totally different university. The transformation was so vast that we did not have to fill course registration forms and Que at Gandhi wing.

Men you have everything online. Connect, choose units, register them and even plan the timetable online.

Hongera UON.
Join in and write your own page! It's easy to do. How? Simply click here to return to KU_c2.